Making an Impact Through Gifts of Real Estate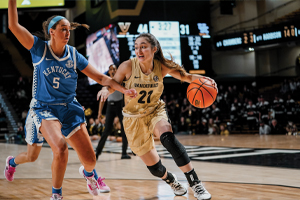 Bella LaChance, Class of 2024, is a guard for the women's basketball team and a Sugg Basketball Scholarship recipient.
Vanderbilt's Office of Planned Giving is committed to partnering with alumni and friends to create a tailored planned gift that reflects a supporter's philanthropic priorities. One gift option that benefits both Vanderbilt and donors is a gift of real estate. Real estate can be used to make an outright gift, to fund a charitable trust, as a retained life estate (wherein donors receive an immediate tax deduction and use of the property until they pass away) or as a traditional bequest. While there are tax benefits for donating real estate outright, an added benefit is having Vanderbilt deal with the hassle of selling the property instead of selling it yourself. Gifts of real estate make a significant impact on Vanderbilt and enable us to fuel our mission of excellence. Mary Ann Sugg, BA'51, and Nancy Travis, BSN'47, are prime examples of Vanderbilt alumna who made lasting legacies through their love of the university community and their planned gifts.
Mary Ann Sugg was a social worker and a dedicated Vanderbilt supporter whose parents, brother and extended family members were also alumni. A passionate 'Dores fan, she especially loved Vanderbilt basketball and football and could often be found in the stands cheering on her alma mater. Sugg supported various areas across the university, including need-based scholarships in the College of Arts and Science for students majoring in classical studies, the Robert Penn Warren Center for the Humanities and more. Mary Ann passed away in 2017, and part of her bequest included real estate. Vanderbilt worked with her executor, and, as a result, the land was sold, which resulted in the creation of the Sugg Basketball Scholarships Fund in 2019. Since then, six Vanderbilt student-athletes have received the Sugg Basketball Scholarship.
School of Nursing alumna Nancy Dillard Travis also made a tremendous impact on the Vanderbilt community through her decades of involvement and support. Travis attended the School of Nursing as part of the first class of the Army Nurse Cadet Corps during World War II. Afterwards, she worked in public health nursing and, along with her husband Hilliard Travis, was a dedicated supporter of the nursing school. Through their generous bequest gift of real estate, the Travises funded scholarships that have benefited several hundred nursing students so far. They also endowed the Nancy and Hilliard Travis Chair in Nursing, which was held by Colleen Conway-Welch, dean emerita of the School of Nursing. During the school's centennial in 2008, Travis was recognized as one of the school's Top 100 Leaders for her philanthropic partnership and her engagement.
© Pentera, Inc. Planned giving content. All rights reserved.
Disclaimer