Reunion Giving
Reunion is a special time for alumni to reflect on their Vanderbilt experience and reconnect with classmates. It is also an opportunity to consider your legacy and the lasting impact of a planned gift on your alma mater. Including Vanderbilt in your estate plan helps ensure that future scholars have access to a transformative student experience within a vibrant, collaborative community. In addition to commemorating your connection to the university, your bequest will count toward your class fundraising total.
Two bold initiatives, 50x50 and Sarratt 10, encourage alumni to celebrate their Reunions by making estate gifts to Vanderbilt, which qualify for recognition in the Sarratt Society—the university's planned giving donor society. Alumni leaders from each Reunion class are selected as Sarratt Society Chairs—ambassadors who build awareness and understanding of the 50x50 and Sarratt 10 programs. Leading up to Reunion festivities, class chairs share their own stories of giving, encourage others to make planned gifts, and provide updates on the program to their classmates.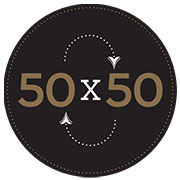 50x50 was launched in 2018 as an annual program for undergraduate alumni. This initiative engages members of each Vanderbilt class, beginning with their 30th Reunion, to achieve the goal of 50 Sarratt Society members by their Quinq (50th) Reunion. In 50x50's inaugural year, 18 alumni documented estate intentions or funded life-income gifts. The total value of these gifts was more than $5.5M, which was 17% of the total dollars raised during Reunion 2018.
Sarratt Society Class Chairs – 50x50:
Class of 1969: Anna (Jorgensen) Mershon, BA'69
Anna Mershon, BA'69, believes Vanderbilt influenced her career and transition into community service. With a bachelor's in French and a teaching certificate from Peabody College, she spent her career teaching and traveling the world. She credits a study abroad trip for altering the course of her life. Mershon has established a planned gift that will fund the Anna Jorgensen Mershon Scholarship for Study Abroad.
Class of 1974: Perry Brandt, BA'74, JD'77
Perry Brandt, BA'74, JD'77, has remained connected to Vanderbilt since graduation. Brandt has served as president of the Alumni Association Board and as a member of the Board of Trust. His love and loyalty to Vanderbilt also continue through his daughter, Betsy Brandt, BA'13. Brandt will leave his legacy at Vanderbilt through the generous gift of a bequest to benefit the university's greatest needs.
Class of 1979: Nancy (Dinwiddie) Pellegrino, BA'79
"Proud" is the word that comes to mind when Nancy Pellegrino, BA'79, thinks about her alma mater. Pellegrino's pride stems from her Vanderbilt experience that set her up for personal and professional success. After entering the oil and gas industry, Pellegrino transitioned into wealth management and private banking and recently founded her own firm, Pellegrino Advisory Services LLC. Pellegrino has documented a bequest that will establish the Nancy and Mark Pellegrino Scholarship for students in the College of Arts and Science.
Class of 1984: Tim Warnock, BA'84
Tim Warnock is proof that the Vanderbilt experience doesn't end after graduation. Warnock, BA'84, is president-elect of the Alumni Association and served as the Reunion 2014 Class Weekend Chair. When he's not working as partner at Riley Warnock & Jacobson, PLC, he teaches a course at Vanderbilt Law School. Warnock will leave a lasting legacy through an estate gift that will establish the Maryglenn and Tim Warnock Family Scholarship.
Class of 1989: Clarke B. Futch, BA'89
Scholarship support not only helped Clarke Futch, BA'89, secure a Vanderbilt education, it also inspired him to give back and provide students with the same opportunity. As founder and managing partner of HealthCare Royalty Partners, he is known as a leader in healthcare investing. He's a proud husband to Julie and a father of four, including Hayden (Class of 2020). Futch has designated his planned gift to establish the Maude Brannen Futch Scholarship in honor of his grandmother.

Sarratt 10 launched just this year, focusing on alumni from Vanderbilt Law School, the School of Nursing, and Owen Graduate School of Management. This effort aims to have ten new members of the Sarratt Society from each school every year.
Sarratt Society Class Chairs—Sarratt 10:
School of Nursing: Sally Baum Nordlund, BSN'74
As a trained nurse and current volunteer leader in her community, helping people is in Sally Nordlund's nature. The decision to help others through planned giving was an easy one. In honor of their Vanderbilt educations—and those of two of their children—she and her husband Craig, JD'74, documented a bequest to support scholarships at the School of Nursing, the Law School, and the College of Arts and Science.
Law School: Stephanie Parker, JD'84
Stephanie Parker had two main reasons for endowing the Ethel and Cecil Roberts Scholarship. First, she wanted to recognize the tremendous role her grandparents played in her upbringing. Second, she wanted to give back to the school that made such a big impact in her life. After earning her degree from Vanderbilt, Parker clerked for a U.S. District Court judge then joined Jones Day in Atlanta. As partner, she co-leads the firm's business and tort litigation and product liability litigation practices.
Reunion 2019 is scheduled for October 17-19. This year's celebration will honor the Classes of 1969, 1974, 1979, 1984, 1989, 1994, 1999, 2004, 2009, and 2014. For more information about making a planned gift to celebrate Reunion, contact the Office of Planned Giving at (615) 343-3113 or plannedgiving@vanderbilt.edu or request more information here.
© Pentera, Inc. Planned giving content. All rights reserved.
Disclaimer