Why I Give — Bob Matthews, MD'86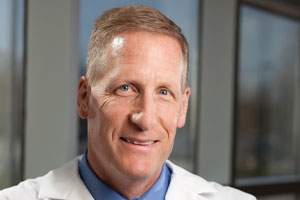 Commitment to a Mission
When Bob Matthews, MD'86, came to the Vanderbilt School of Medicine, he sought an institution where he could join the best and brightest students from across the country. He was pleased to discover that at Vanderbilt his expectations matched his experience; he was among the company of smart, highly motivated classmates for whom the ethos "work hard, play hard" was the rhythm of life.
Matthews soon discovered that this atmosphere of camaraderie and hard work transcended the classroom when he found himself in an unexpected place for a "skinny former cross-county runner from the middle of nowhere" to end up — the rugby pitch.
When his roommate returned battered and grass-stained but invigorated from rugby practice, Matthews was intrigued.
"My friends admit that, when they invited me to join, they thought I would come out for one or two practices, get broken somehow and give it up," Matthews says with a laugh. Instead, he played the sport for the next 17 years.
"To me, rugby is everything that sports should be — hard competition on the pitch, and as soon as the match is over, you're all friends. When you go all in together, win or lose, it creates a bond. The best friends I have in life are the people I played rugby with, many of them from when I started playing at Vanderbilt."
These bonds still have a profound impact on Matthews. He praises the late Coach Joe Franklin, MLAS'09, as one of the most influential men in his life, crediting Franklin for helping him become more confident and mature and teaching Matthews the meaning of total commitment. He has applied these lessons throughout his career, first in the U.S. Navy, in active duty (14 years) and then the Reserves (24 years).
Matthews attended medical school on a Navy scholarship and owed the branch four years of service afterwards. After graduation and a brief internship in San Diego, he attended flight surgery school and learned to fly helicopters. Afterward, he was stationed at a Marine base in Okinawa, where he is proud to have started a rugby club. "As you would imagine, Marines are tailor made for rugby," he laughs.
Today Matthews resides in Raleigh, North Carolina, where he teaches residents at the University of North Carolina and is a surgeon at WakeMed Health and Hospital system. "Our hospital provides 70 percent of the indigent care in the area. To take care of people who don't do financially well through no fault of their own — that's an important mission."
Matthews is practicing this mission at Vanderbilt, too, by establishing a planned gift in support of the Rugby Club. While Matthews continues to make annual gifts to his class scholarship and the Joe Franklin Rugby Fund, he has included a bequest in his will to support the club through his estate and documented his gift with the university. He hopes to inspire others to consider a planned gift in support of a cause they are passionate about.
"It's important that what you leave behind be something important and meaningful to you. For me, that's Vanderbilt rugby. Had my friends not invited me to come play, had Coach Franklin not picked me out, my life would be radically different. I think it would be less of a life. If another kid has the sort of experience I had, it's worth it."
© Pentera, Inc. Planned giving content. All rights reserved.
Disclaimer