Ann Yingling: Transforming Lives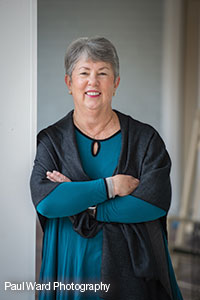 When Ann Yingling, BA'68, was a high schooler in Alexandria, Virginia, she was weighing her college options, including her mother's wish for her to attend an in state all-girls school. Instead, she says, "I ended up at Vandy and never looked back. It was clearly the place for me."
Now, more than fifty years later, the friendships formed and lessons learned at Vanderbilt have stayed with her. She studied history and Spanish; was elected president of McTyeire, the senior women's dorm; and spent a life-changing semester abroad in Spain, sparking a love of travel that she later passed along to her children, Chris and Liz Fort.
Her time at Vanderbilt unfolded during one of the most tumultuous times in the country's history — the Vietnam war raged on, groundbreaking civil rights legislation was passed, and Martin Luther King Jr. and Robert F. Kennedy were assassinated. For Ann, it was a period of personal transformation.
She describes how, for her and other women at Vanderbilt, their undergraduate experience was, "the first time we knew how smart we were. We were encouraged to use our intelligence. It was such an intellectually liberating time. I'm not sure the rest of the world was ready for us."
After graduation she became a middle and high school teacher, earned her master's in teaching from the University of Central Arkansas and eventually settled in Savannah to raise Chris and Liz. Thirty years later, she still resides there with her husband Charles Morrow.
Ann's connection to Vanderbilt never waned; and so, in honor of her 50th Reunion, she established the Ann Yingling Scholarship, funded by gift annuities, to provide financial support to deserving undergraduates in the College of Arts and Science. She was motivated to give in part because of her admiration for Opportunity Vanderbilt — the university's commitment to meet every undergraduate's financial needs.
"I love Vandy. It changed my life and made it what it is."
© Pentera, Inc. Planned giving content. All rights reserved.
Disclaimer