Hrabovsky's Bequest Establishes Scholarship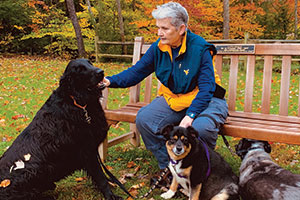 Retired pediatric surgeon Ellen Hrabovsky, BS'65, MD'69, knows, firsthand, the power of philanthropy.
As a Peabody undergraduate, a combination of a scholarship and part-time work allowed her to graduate college without debt. Then, after her first year at Vanderbilt University School of Medicine, the financial strain became unbearable. The late Dean John E. Chapman helped her secure funding so she could complete her degree.
"Scholarships were not easy to come by," she recalls, "and the support made an amazing difference to me."
Hrabovsky went on to a career at West Virginia University-Ruby Memorial Hospital, where she played a crucial role in building their Division of Pediatric Surgery. She credits Vanderbilt for giving her the education, experience and mentorship required to excel as a physician and as a leader.
Out of gratitude for Vanderbilt's influence, Hrabovsky documented her intent to establish a scholarship for medical students at Vanderbilt through a bequest gift. Then, in advance of her Quinq Reunion in fall 2018, Hrabovsky furthered her commitment to medical education at Vanderbilt by endowing the Ellen E. Hrabovsky Scholarship to support students at the School of Medicine. While establishing the scholarship now allows Hrabovsky to get to know current recipients, her bequest will deepen the impact of the fund for generations of students to come.
To Hrabovsky, the opportunity to help lift the financial burdens from a medical student was something she couldn't pass up. "I'm delighted to do my part and give back."
© Pentera, Inc. Planned giving content. All rights reserved.
Disclaimer