Leading by Example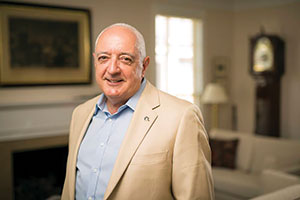 The Hindle Family Scholarship was one more way for John Hindle, BA'68, PhD'81, and his wife, Joan Barr Hindle, to pay forward the lifelong success they have achieved, which John credits in large measure to his Vanderbilt education.
At the time they created the fund in 2014 as a part of Opportunity Vanderbilt, John had engaged with the university as a student, staff member, parent, faculty member, trustee and longtime donor as well as in numerous volunteer positions on the Alumni Association Board (including president). The creation of the scholarship was a tribute to the financial support he received as a student, which made it possible for him to be the first in his family to attend college.
When he heard about Opportunity Vanderbilt, John felt an immediate connection to the scholarship initiative. "That was where I wanted to focus my giving because scholarships and my education changed my life and opened doors I wouldn't have been able to access any other way," John says.
After receiving his doctorate in English from Vanderbilt, John's global marketing career eventually took him to London — where he and his family lived for 25 years before returning to Nashville in 2014. Through it all, he has maintained a lifelong relationship with Vanderbilt. The Hindles' engagement with Vanderbilt provides opportunities to interact with students, and this ability to see firsthand the quality of the students they are helping motivated them to incorporate the university into their estate plan. They recently documented a bequest to strengthen the impact of their scholarship for generations to come.
"My scholarship ultimately had a profound influence on the shape of my life," John says. Not only is the Hindle Family Scholarship providing the same opportunities for future students, it is leaving an indelible mark on the university he holds dear.
© Pentera, Inc. Planned giving content. All rights reserved.
Disclaimer