David Potts — Supporting STEM Scholars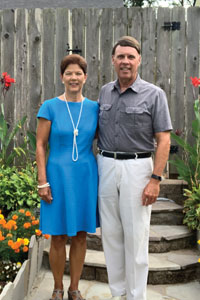 Frances Candi Potts and David Potts
One February day in 1935, 4-year-old Mitchell Potts was playing with his brothers in rural Hickman County, Tennessee, when he accidentally inhaled a peanut husk. Soon after, he developed a severe case of pneumonia. As his condition worsened, his family realized the little boy would not survive without hospital care. The closest hospital was at Vanderbilt University, 45 miles away over gravel roads, and the Potts family did not have a vehicle. Fortunately, they found a kind neighbor to drive Mitchell to Vanderbilt, where doctors saved his life.
Years later, in 1967, Mitchell Potts joined the maintenance department at Peabody College (which became part of Vanderbilt in 1979) and worked there for 30 years until he retired. During that time, his son David was able to attend Peabody with aid from the employee tuition assistance program. After graduating with a bachelor's degree in 1980, David accepted a position with Occidental Chemical Corporation — where he worked his way up to become a site chemist and enjoyed a 40-year career with the company.
"I've seen that education is the way to better families and to better yourself, if you have the tenacity and the desire to learn," David said. "My mother was valedictorian of her high school, and she always wanted to be a schoolteacher — but she didn't have the means."
He and his wife, Frances Candi Potts, are determined to help others. They recently documented their intent to establish the Potts Scholarship through a bequest gift to provide financial support for undergraduate students studying science, technology, engineering and mathematics at the College of Arts and Science or the School of Engineering.
"Someone's kindness in 1935 saved my father's life and has essentially come full circle," David said. "My hope is that this scholarship will help others to get an education. Hopefully, at some point, they will pay it forward. That's the ultimate goal."
© Pentera, Inc. Planned giving content. All rights reserved.
Disclaimer