Nancy Pellegrino: For the Love of Vanderbilt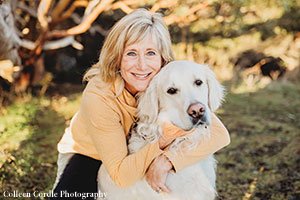 Nancy recently relocated to beautiful Fidalgo Island, Washington, with her husband Mark and their beloved golden retriever, Decker.
Looking back, Nancy Pellegrino, BA'79, wishes she could have spent a whole year studying abroad during her time at Vanderbilt. Instead, she opted for only a summer studying at Oxford University because she just couldn't tear herself away from campus for any longer.
"I could not leave Vanderbilt during the year because I didn't want to be away from Vanderbilt," she said. "I loved being on campus too much."
That love of Vanderbilt — its campus, its people and its academic experience — has followed her in the four decades since graduation. She has remained connected with her classmates, stayed involved in numerous reunion celebrations and, above all, has taken advantage of her education to find success in her career.
Pellegrino recalls being well prepared for the business world, thanks in large part to her liberal arts education at Vanderbilt. Just the experience of being at a school of Vanderbilt's caliber was a boon for her 30-year career in the wealth management and private banking industries.
Now she and her husband Mark have solidified their legacy at Vanderbilt through a bequest gift to establish the Nancy and Mark Pellegrino Scholarship.
They credit their careers for teaching them the importance and impact of planned giving. But it was Nancy's dedication to Vanderbilt, coupled with Mark receiving a scholarship to attend Texas Christian University, that served as the inspiration for supporting scholarships at the College of Arts and Science.
"Apart from having Vanderbilt in our wills, which we did already, this was just a way to be more focused about our giving," she said.
This year she took her involvement at Vanderbilt one step further, serving as a Sarratt Society Chair for her 40th Reunion. The role comes second nature to the seasoned wealth management professional — encouraging her classmates to support the university's 50x50 initiative, which seeks to achieve the goal of 50 Sarratt Society members from the class by their 50th Reunion.
"It's really a great way to leave a legacy and make an impact for the future," she said.
© Pentera, Inc. Planned giving content. All rights reserved.
Disclaimer